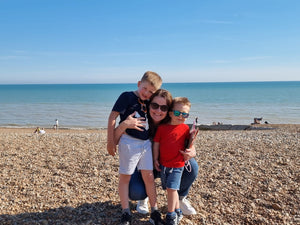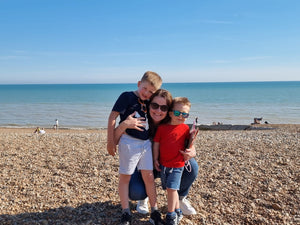 Meet the Founder
Hello! I'm Laura, chief day-dreamer, creator of pretty things and founder of Koko Blossom. I started the business in 2015 after having my first little boy, when the need to create a work / life 'blend' (as I like to call it) grew too strong and Koko Blossom was born.
The thing is, I have always loved business, that little entrepreneurial spark was with me from a young age. At the age of 5 I set up a business selling bookmarks (made from the cardboard in tights) to neighbours for 10p, followed by a little gardening business aged 7, then plastic watches on marketplaces and it went on from there. 
I always knew I would end up with my own business one day, I could almost picture it. I suppose after years of dreaming, saving inspirational business articles from magazines and coming up with a whole host of ideas, it was an early version of manifestation.
I now have two gorgeous boys, Ollie and Zac and they are the inspiration for all I do. The boys love nothing more than visiting 'Mummy's work' and my hope is that the entrepreneurial gene passes on to them.
The Business
Over the past 5 years the business has grown from a spare room to a two-room studio. Within this time, we have gone from buying wholesale products to developing our own ranges, which is a dream come true.
With Koko Blossom, we wanted to create products that are sophisticated and uplifting, an accessory that everyone would feel proud of using, but with the added extra of personalisation.
We now have 3 members of staff and studios in a beautiful old cotton mill in Cheshire. To keep us busy, we have a plethora of product lines and a couple of sister brands. It's certainly a long way from the box room we started in.
Our Story
Koko Blossom is all about a relaxed travel style. We were born out of the need to take some well needed 'me time' and to enjoy switching off from the stresses of the day…week…year. We're talking palm trees, coconuts, sandy beaches, cold rosé, the sound of the waves…we're here for that. 
I started with what I knew, textiles. I had worked for two wonderful textile companies throughout my career and it's what I loved. So, I took a leap of faith and used my own savings to import some beautiful hammam towels. It worked, customers loved them and I loved the buzz of getting an order. We have gone full circle and have a new hammam towel range for the current season, it's great to be back where we belong.
We've gone through various looks over the years, like a person grows and develops, so has the business, it changes and evolves and every time we think it can't get any better, it does. We're excited for what's to come and you're welcome along for the ride.
Laura xo